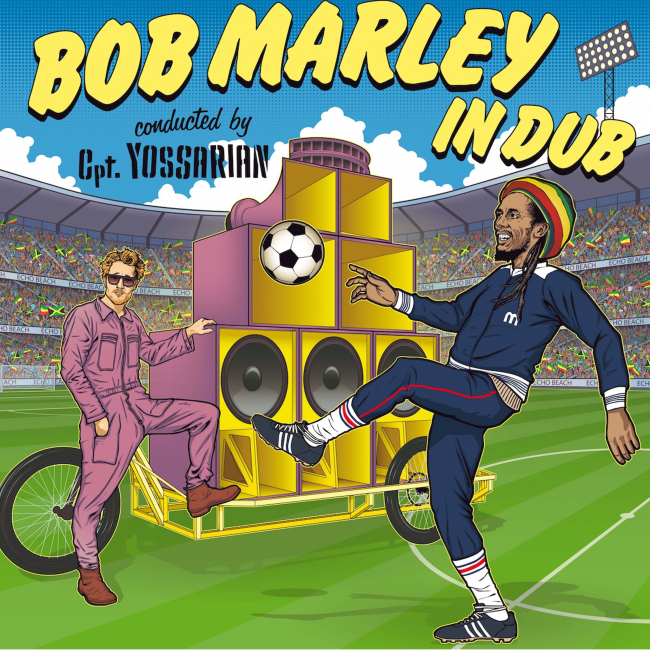 The first snare roll leaves no doubt: this is a dub album, reminiscing the pioneers of the genre like King Tubby, Lee "Scratch" Perry, and Scientist, and of course, it's a tribute to the revolutionary music of Bob Marley and the Wailers.
The original record from which these dubs derive - "Bob" by Kapelle So&So feat. Cpt. Yossarian - was recorded in 2020, the year of Bob Marley´s 75th birthday. Due to the strict lockdown, all the tracks were recorded separately - which perfectly qualifies them for a dub rework.
The musicians involved took great care to dig deeply into the original music, absorbing every note of the Wailers´ recordings and translating it to their own instrument. But at this point, we leave common paths, because what would be Aston Barrett´s electric bass turns out to be a tuba and his brother Carly´s distinguished bass drum sound resurges on an old leather suitcase.
We are talking of a traditional Bavarian folk band (trumpet, cornet, tuba, accordion, guitar, drums) playing Bob Marley´s sacred music. Simultaneously seriously sticking to the original score and adding color to the music by the masterful use of their rather uncommon instruments. What sounds like an impossible -almost blasphemous- endeavor actually sounds pretty neat and leads to the next big venture:
A dub album paying tribute to the music of Bob Marley and the Wailers.
The dub versions naturally lead on the abstract that was introduced by the uncommon orchestration by muting or emphasizing single instruments and sending them into the sonic orbit. The melody itself is almost completely left out. Nevertheless one never loses one´s orientation since the defining elements of the songs alternate skillfully, vanishing in clouds of reverb, losing themselves in echo feedbacks, and then popping up again, guiding us through the song.
Despite being focused mainly on bass and drums you will catch yourself singing along Marley´s part more than once thereby proving the profound impact of this divine music on our souls and our common musical knowledge.
Bob Marley in Dub is the abstract of an abstract and still manages to transport the heart and soul inherent in the music. With all due respect to the original, Cpt. Yossarian manages to illuminate nuances of the material yet unheard and takes us on a trip through his conception of this otherwise well-known material. Following the tradition of the before mentioned mentors of dub music, he uses his mixing desk, a couple of studio effects, and whatever odd-sounding kids toys to present us with his approach to a musical genre that defined so many styles of music that followed.
Dub music is music for the musical connoisseur. For the one, that is not afraid of space, for the one that doesn´t look for all too easy hooks, for the one that listens closely, for the one that loves music in every aspect.
Artist: Cpt. Yossarian vs. Kapelle So & So
Titel: Bob Marley In Dub"
Echo Beach (EB164)
CD (ltd. Edition) / Digital
LP (ltd. Edition) – February 2022
Release Date: 15.10.2021