Vibronics | "Woman On A Mission"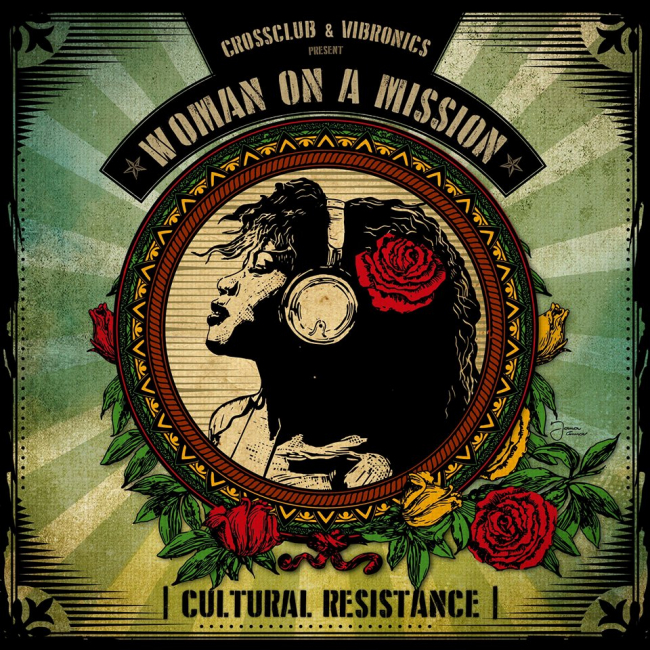 Set for International Women's day
"Woman On A Mission" is a new release featuring 8 female vocalists on 8 brand new Vibronics tracks. The album presents time-honored Vibronics associates, Boney L (recording for the first time in 10 years), Nia Songbird, Vanya O and Saraléne , alongside first-time collaborations with Trilla Jenna, Nanci Correia, Nish Wadada & Sis I-Leen. Each track vocal track effortlessly glides into an extended dub mix that showcases the sonic skills that Vibronics is known for.
The first release phase is set for International Women's day 2018, where a day of live streaming on Facebook will announce the digital release of the album alongside interviews, concerts, mixes & a host of other streamed events to celebrate and discuss women in Reggae & Dub. Phase 2 is a luscious 2 X vinyl album & art-card package set for release in April.
A special website "Cultural Resistance" has been created as part of the project and Vibronics will be touring through 2018 with artists from "Woman On A Mission" .. so who are these women, and what are their missions?
Nia Songbird : A young vocalist from Leicester, already established through releases on the Vibronics / SCOOPS label Nia is a rising star in the reggae world, her soft & soulful vocals recall the classic days of UK reggae artists.
Wish Wadada : Straight out of Cape Verde island, Nish is well known in the reggae & sound system scene as a writer & performer. She has made a name for herself singing with a strong lyrical message for the King Shiloh & Blackboard Jungle labels.
Boney L : The original Vibronics vocalist from 1997, Bony L's recordings are highly sought after Dub gems, most notably, the Jah Shaka anthem 'Jah Light Jah Love'. The elusive singer was coaxed back in the study for the 1st time in over 10 years to record for this extra special project.
Vanya O : Half of Zagreb heavy-dubbers Dubble, Vanya started out in the now legendary and first-ever Croatia live dub outfit Radikal Dub Kolektiv. Here, her amazing melodica playing skills are highlighted alongside her sublime voice.
Trilla Jenna : Founder of the all-female Gold Label Sound System in 1989, London-based Trilla Jenna stormed the recording world in the 1990s when she hooked up with Mad Professor for a series of classic Ariwa releases. Now firmly back on the scene, her deep & militant style is a must for this album.
Sis I-Leen : Geneva-based I-Leen came to prominence with her live & studio work for fellow local legends OBF Sound System. She has since gone on to work with Massai Warrior, Dub Conductor & Ashant Selah. Her unique style mixes influences from R&B with Reggae & Dub.
Saraléne : From Berlin, Saraléne has established herself as one of the city's leading live & studio reggae vocalists. As well as a string of releases for Vibronics, Saraléne has worked with fellow Berliners Ganjaman & Longfingah and a host of top Dubwise Sound Systems.
Nanci Correia : Lisbon born and London raised, Nanci Correia is best known for being half of the duo Nanci & Phoebe, part of the extended Congo Natty family. Her passionate & soulful voice clearly communicates her obsession with music with lyrics full of emotion.
Acclaimed Prague-based Visual artist Jana Anna has created a hand-made vinyl cut portrait of each vocalist. A series of specially printed art cards will be available alongside the vinyl album release in April.